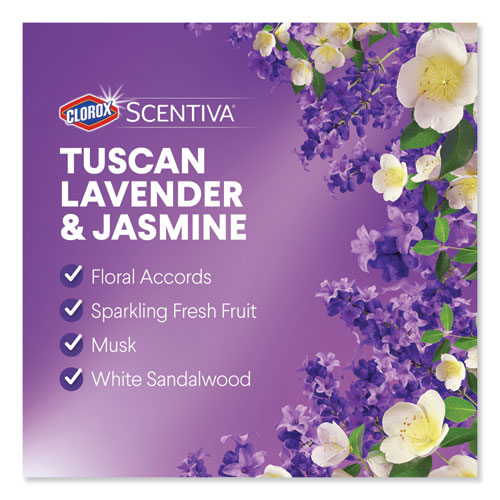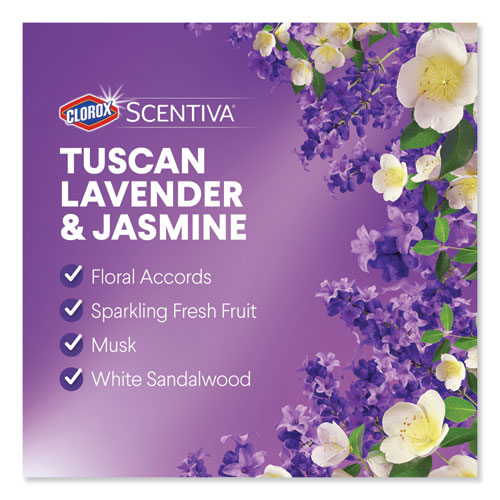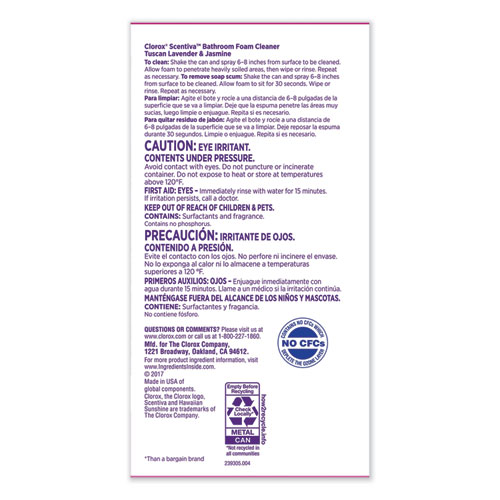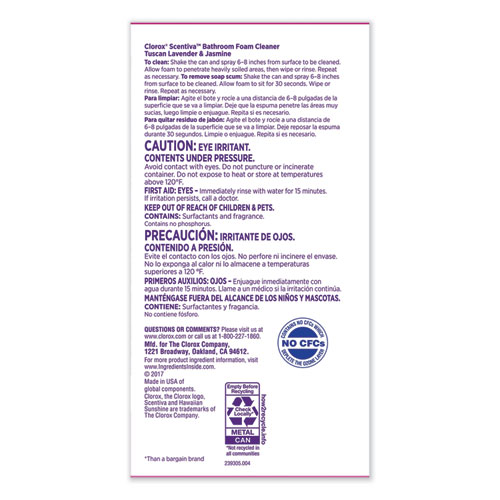 Out of stock. Contact our office to place on backorder.
Manufacturer CLOROX SALES CO.
Manufacturer Ref 31817
Cleans, disinfects and kills 99.9% of viruses and bacteria.
Removes soap scum, dirt and grime from bathroom surfaces including glass, porcelain and marble.
Delivers a powerful, bleach-free formula, providing foam coverage with three times the cleaning action without the harsh chemical smells.
Ideal for use in offices, schools, daycare centers, restaurants, hotels and other commercial facilities.
Specifications
Ceramics; Enamel; Fiberglass; Grout; Laminates; Metal; Plastic; Vinyl
Disinfectants & Sanitizers
Benzalkonium Chloride; Lauryl Dimethylamine Oxide
Bacteria; Dust; Fungus; Germs; Grease; Grime; Mildew; Mold; Viruses; Water-Based Soil
Cleaners & Detergents-Disinfectant/Cleaner
Post-Consumer Recycled Content Percent
Pre-Consumer Recycled Content Percent
Total Recycled Content Percent
Disinfectants & Sanitizers
Description
Clorox Scentiva Disinfecting Foamer combine the trusted cleaning and disinfection power of Clorox with a captivating scent to transform your bathroom. Clorox Scentiva scents are well-crafted, curated, inviting blends that will elevate your cleaning experience. This cleaning spray is bleach-free and multi-purpose and powers through dirt, grime and soap scum with ease. Use this foaming spray on a variety of bathroom surfaces including laminated surfaces, glass, glazed ceramic tile, fiberglass, glazed porcelain and cultured marble. Utilize this disinfectant foamer to cut down on your necessary cleaning supplies and quickly spray away an array of messes. Safe to use on most bathroom surfaces, Clorox Scentiva Disinfectant Spray cleaner eliminates 99.9 of germs while filling your bathroom with uplifting, long-lasting scents. Ideal for use in offices, schools, daycare centers, restaurants, hotels and other commercial facilities. Great for everyday and seasonal cleaning like Spring Cleaning, Back to School and Cold Flu season. Application: Disinfectant/Cleaner Applicable Material: Ceramics Enamel Fiberglass Grout Laminates Metal Plastic Vinyl Chemical Compound: Benzalkonium Chloride Lauryl Dimethylamine Oxide Dirt Types: Bacteria Dust Fungus Germs Grease Grime Mildew Mold Viruses Water-Based Soil.