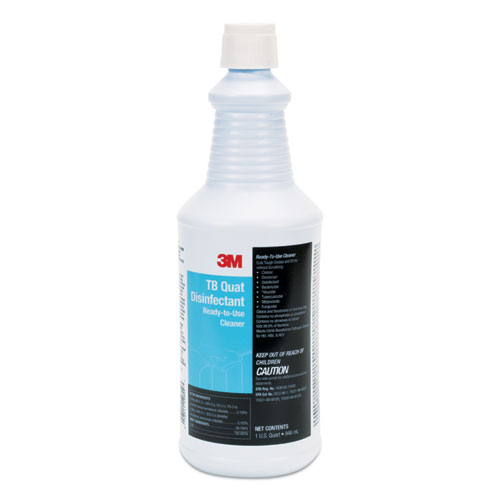 Manufacturer 3M/COMMERCIAL TAPE DIV.
Manufacturer Ref 29612
Specifications
Disinfectants & Sanitizers
Description
3M TB Quat Disinfectant Cleaner Ready-to-Use is designed specifically as a general, non-acid, non-abrasive cleaner and disinfectant for use in: homes, hospitals, nursing homes, hotels, and schools. It is formulated to disinfect hard, non-porous, inanimate environmental surfaces like: Floors, walls, metal surfaces, stainless steel surfaces, glazed porcelain, glazed ceramic tile, plastic surface. Application: Disinfectant/Cleaner Applicable Material: Floors Walls Metal Surfaces Stainless Steel Surfaces Glazed Porcelain Glazed Ceramic Tile Plastic Surfaces Chemical Compound: Diethylene Glycol Butyl Ether Dirt Types: Bacteria Dust Germs Grease Grime Herpes I and II HIV-1 MRSA VRE Viruses Water-Based Soil.